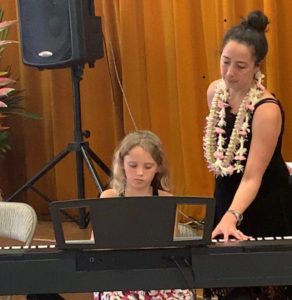 Earlier this month, the Desperado Orchestra Music Ensemble held its Spring Music Recital. Three of our learners, Andrew James (AJ), Makayla Timko, and Raegan Baldwin, received an award for practicing for at least 1,000 minutes or over. Congratulations to our talented and hard-working learner musicians!
Last week, we invited the director of the Desperado Orchestra Music Ensemble, Megan Lawson, to our school and she was able to do a demo class with our learners. We are hoping she will be able to join us next year to begin a music program with our school!
To acquire the instruments and facilitator we will need to begin this music program we will be doing lots of fundraising in the months to come. We will keep you posted and look forward to more performing arts opportunities for our school. One great way to begin is by signing up to participate in the Charity Walk on May 11th. To pledge and/or walk please click here. Proceeds go to music and the arts at Alaka'i O Kaua'i! MAHALO!