Aloha mai kakou to the learning community of Alaka'i O Kaua'i Charter School and we hope the start of December has greeted you with happiness and health in this festive season. Mahalo for your support of the abundance of activities during the last few weeks before Winter Break begins on December 21st at 12:30 pm.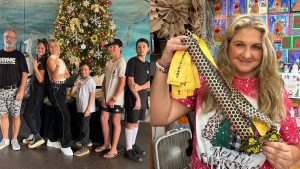 We are so incredibly fortunate to be part of a learning community that lives our character trait focus of CARING for December. Mahalo nui e Ms. Kelly Ann who spent numerous hours finalizing all the bills and coins that were graciously donated to the Maui relief program on campus called "Change for Change." The program raised an amazing $977.62 that will be sent to our brothers and sisters in Maui so that they can help rebuild their lives.
We have now started another program of CARING called Holiday Hampers where people in our learning community with abundance can share with those in our learning community with less. Please feel free to drop off a non-perishable food item on the table in the Main Foyer at the entrance of the school. The items collected will be distributed anonymously within our learning community. If you or someone you know could use a little assistance then please let us know.
Mahalo nui e Na Hoa O Alaka'i Parent Teacher Network for their creative efforts in building our school's entry in the "Lights on Rice" parade. We greatly appreciate your sharing of talents and resources to make another opportunity for our learners to enjoy a fresh experience on our island.
Ho'omaika'i to the "Flying Lemurs" who were named the Bandwagon "Battle of the Bands" Champions at the finals held in Lihu'e. All the members of the "Flying Lemurs" are students of Alaka'i O Kaua'i Charter School which is probably another reason that our year-end Talent Show is so amazing.
The school-wide Spelling Bee Championship was held last Friday and our profound appreciation to Ms. Kelly Ann for organizing and running this year's event. We are all greatly saddened that the Spelling Bee marked the end of Ms. Kelly Ann's on-campus employment as she is moving off the island. Ms. Kelly Ann knows that a job at the school awaits her when she returns to beautiful Kaua'i and we wish to express our deep gratitude for her work at our school.
Best wishes to you all for a wonderful week ahead. Malama pono.
DJ Adams
Po'okumu (Director)
Alaka'i O Kaua'i Charter School
Koloa, Hawaii
"E hele me ka pu'olo "
Make Every Person, Place, or Condition Better Than You Left It Always