Aloha mai kakou to the good people in the Alaka'i O Kaua'i Charter School learning community, and we hope this message finds you in good health and happiness as we conclude the first week of May.
Last Monday, May 1st was Lei Day in beautiful Hawai'i and we were pleased to see many colorful leis on campus to celebrate the day. Being the unique charter school that we are, Alaka'i O Kaua'i Charter School did not host any Lei Day celebrations again this year as we focus our attention on a slightly different presentation.
Our third annual Na Kupu Lau celebration is scheduled for Friday, May 19th here on campus. This creative event has grown significantly from some humble beginnings three short years ago right in the middle of the pandemic. We look forward to welcoming any and all members of our learning community to attend and enjoy the artistic work of our talented keiki.
Once again, each of our classrooms will give a presentation during the celebration. We have included some photos from last year's events so that those people new to our learning community can have a quick view of Na Kupu Lau. The celebration will include a post-event social with light lunch for all the participants and guests that join us.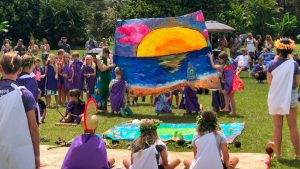 We want to share this invitation with you a touch early as we understand that prior planning might be essential in your busy lives to be able to attend the event here on campus with us. More details will be shared via ParentSquare Messaging for those who currently have learners enrolled in the school.
Mahalo nui for your support of our unique charter school. Malama pono.
DJ Adams – Po'o Kumu (Director), Alaka'i O Kaua'i Charter School, Koloa, Hawai'i
"Ua ola no i ka pane a ke aloha." There is life in a kindly reply.