Aloha mai kakou to the good people in the learning community of Alaka'i O Kaua'i Charter School, and we hope his message finds you all in good health and happiness as we reach the mid-point of the marvelous month of May. There is no question that May is marvelous on campus as we enjoy so many diverse experiences during the last month of the school year.
We wish to start with gratitude to everyone who volunteered their time and energy to the annual Kaua'i Charity Walk event. Alaka'i O Kaua'i Charter School has been the top Not For Profit fundraiser on the island in this event in 2021 and again in 2022, due to your efforts. In 2023, the school set new benchmarks for stations served, volunteers that stepped forward, and points that our school accumulated. The final number will not be announced for quite some time but in 2022 our school received over $27,000 from the helpful people at the Kaua'i Charity Walk. We wish to acknowledge Ms. Kalina, our No Hoa O Alaka'i Parent Teacher Network President who signed up for shifts OVER AND BEYOND the school's commitments and earned even more points for the school.
We also just completed our annual Penny Wars on campus and really enjoyed the fun we all experienced with the event. It is with great appreciation that we share that this year's edition raised over $1,700.00 for the school. That is a LOT of coins. Mahalo nui to Ms. Kelly Ann, our No Hoa O Alaka'i Parent Teacher Network Vice-President for running this event this year.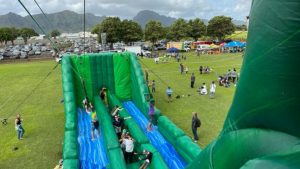 The third annual Na Kupu Lau is this Friday, May 19th on campus. We recently completed the anonymous voting by the staff to select the Royal Court of King, Queen, Princess, and Princess who are pictured below. These fantastic young leaders were chosen based on academics, integrity, leadership, respectfulness, kindness, determination, open-mindedness, and generosity. We hope to see you all on campus to celebrate with us on Friday.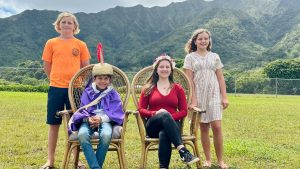 The Alaka'i O Kaua'i Charter School Talent Show will run the last week of school on Monday (K, K/1, 1), Tuesday (Grade 2 and Grade 3), Wednesday (Grade 3/4 and Grade 4), and Thursday (Grade 5 and Grade 6) which is May 22-May 25 inclusively. A sign-up sheet and flyer will be coming home soon but a slight change is that our keiki are limited to only ONE performance please due to overwhelming entries and enthusiasm last year.
We look forward to the Grade Six Farewell Celebration on Friday, May 26th to conclude the school year. The Grade Six students will be preparing and then delivering a speech that day to share their learnings about the school.
Mahalo nui for your support of our unique charter school. Malama pono.
DJ Adams – Po'o Kumu (Director), Alaka'i O Kaua'i Charter School, Koloa, Hawai'i
"Ua ola no i ka pane a ke aloha." There is life in a kindly reply.