Aloha mai kakou to the generous people in the Alaka'i O Kaua'i Charter School learning community. We hope this message finds you in good health and happiness as we move into the month of February. We wish to send this week's Monday Message in great appreciation for your kind support of our annual Jog-A-Thon.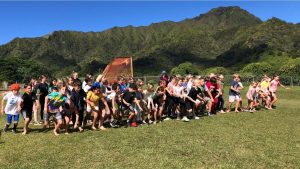 This year's edition of the Jog-A-Thon was held on Friday, January 27th under near perfect weather conditions on campus. There was clear bright sunshine with milder temperatures and light breezes to keep our learners from overheating. Each of our keiki walked, jogged, or ran for 15 minutes during their morning recess and completed laps around the field across the road from Main Campus.
We are proud of each and every one of our learners for their participation and here are the top performers from the day:
Kindergarten
Nakoa Cummings
Huxley Peterson
Dove Vastola
Grade One
Beckham Frazer
Akea Kali
Kahoku Tam
Mia Branscomb
Grade Two
Michael Schmeider
Tatiana Zimmerman
Grade Three
Jaxen Nielsen
Gabrielle Gregorius
Grade Four
Zander Michaels
Rosa Stares
Grade Five
Dustin Kaneakua
Ember Taylor
Grade Six
Sawyer Kimball
Orah McGee
We also wish to express our gratitude for the wonderful financial that our unique charter school received in our one major fundraiser for the school year. We are blessed to share that the learners at Alaka'i O Kaua'i Charter School raised over $11,000 in this event that will directly support activities like enrichments, projects based learning activities, and field trips. The philosophy is that the monies that are raised should go DIRECTLY back to the people who raised it- our keiki.
Mahalo nui for your support of the fastest improving charter school in the state of Hawai'i and malama pono.
DJ Adams – Po'o Kumu (Director), Alaka'i O Kaua'i Charter School, Koloa, Hawai'i
"Ua ola no i ka pane a ke aloha." There is life in a kindly reply.