Aloha to the good people in the Alaka'i O Kaua'i Charter School learning community, and we hope this message finds you healthy and happy as we enter the new month of April. The character trait focus for the month of April will be ACHIEVEMENT and we are fortunate to see countless examples of this trait on daily on campus.
Our keiki had a marvelous experience with the talented Captain Steve on campus in our Hawai'iana classes during the last two weeks. Captain Steve volunteered his time and expertise to teach our learners about the Hokule'a, a performance accurate wa'a kaulua as he has experience working on the crew. We greatly appreciate him sharing his knowledge so that we could all learn about the early brave Polynesian voyagers.
Ms. Nicole, our talented Art teacher, continues to offer high-quality classes to our learners. Anytime anyone wanders into her happy classroom, they are instantly overwhelmed with the ACHIEVEMENT and engagement of our learners.
Mahalo nui e Kumu Nouveau and Ms. Kelly Ann for supporting ACHIEVEMENT at the Mayor's Track Day(s) that were held over the weekend. It was wonderful to see our unique charter school participate in this event on Saturday (Kindergarten to Grade Five) and Sunday (Middle School) and we will share out the results in an upcoming Monday Message.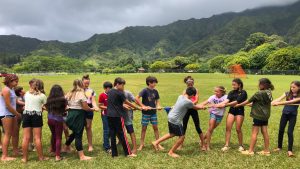 This week we will also celebrate ACHIEVEMENT with the second annual Makahiki Games that will be held on Thursday, April 7th. We are fortunate to have a local group of volunteers who will come to campus and run the event with our learners. Parents and community members are welcome to attend to event and learn more about the activities.
This a helpful reminder that there is another long long weekend coming up around the holiday of Easter. On Friday, April 7th the campus will be closed due to Good Friday and Monday, April 10th is a Hawai'i State Teachers Association (HSTA) Collaboration Day with no students at school. We look forward to welcoming our learners back to campus on Tuesday, April 12th for the stretch run of the 2022-2023 school year. There are no other planned breaks from school for the remainder of the school year which concludes on Friday, May 26th.
An update to a miscommunication on our Instagram and Facebook accounts-we have NOT hired a Grade Seven facilitator for the 2023-2024 school year yet. We are still collecting resumes to fill the position and we will be vigilant and make sure that we have high-quality educators working with our keiki.
Mahalo for your support of our unique charter school and malama pono.
Mahalo for your support of our unique charter school and malama pono.DJ Adams – Po'o Kumu (Director), Alaka'i O Kaua'i Charter School, Koloa, Hawai'i
"Ua ola no i ka pane a ke aloha." There is life in a kindly reply.