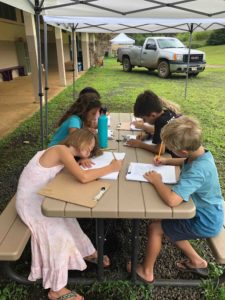 Writer's Workshop is the framework for writing instruction and practice that is used in our Alaka'i O Kaua'i K-6th classrooms. The curriculum that will be utilized is the Units of Study in Opinion, Information, and Narrative Writing, where learners write frequently, for extended periods of time, and on topics of their own choosing. Using a workshop model format, which tailors and adapts instruction to specific learners and classrooms, writing instruction at Alaka'i O Kaua'i will include the following components:
Direct instruction/mini-lesson

Independent writing

Individual facilitator/learner conferences (during independent writing)

Shared writing experiences, particularly in the primary grades

Partner and small group work

Sharing
Trade books and mentor texts are often used during the Writers' Workshop to model effective writing techniques, encourage learners to read as writers, and provide background knowledge. Facilitators will access prior knowledge through a connection, articulate and model the teaching point, engage the learners in the opportunity to practice, provide an opportunity for writers to share their work with each other, confer individually or in small groups, and differentiate instruction to meet the needs of all learners including subgroups.