Driving Question: How can we create a podcast for Alaka'i O Kaua'i that effectively shares the vibrancy of our learning with our community?
Learners found inspiration while listening to several other podcasts in class and learned concepts in each subject. Podcasts for children that brought us inspiration were as follows:
Throughout the project-based learning, experts in our community helped. Bandwagon Music Center owner Jeremy Hartshorn visited to show our class how to record vocals and music. Then we went on a field trip to KONG Radio, where hosts Ron Wiley, Lexi Jones, and Marc Valentin taught the third graders the importance of broadcasting, showed them how to edit vocals, and aired them singing a song on the radio.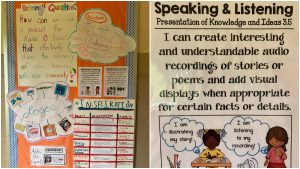 Learners covered many Common Core standards while creating the podcast. One of the main ones was in "Speaking and Listening: Presentation of Knowledge and Ideas 3.5: Students can create interesting and understandable audio recordings of stories or poems and add visual displays when appropriate for certain facts or details."
Alaka'i O Kaua'i focuses on the development of the whole child, including the academic, social, and emotional aspect of learning. A core belief here is that learning is more relevant to children when it engages them in projects that help solve problems important to them and their community. It is our hope that this project-based learning opportunity to create a podcast will help learners understand the value of sharing ideas in the 21st century. Whether it be with our small community or other areas of the world, making connections is a wonderful part of the human experience.
Together, the third graders recorded facts and jokes that pertain to island life, stories and poems that they have written, interviews that they conducted, and multiplication jingles that I wrote earlier in my teaching career.
We hope you are enlightened, entertained, and informed as you listen to the Alaka'i O Kaua'i podcast.