Aloha, Alaka`i O Kaua`i `Ohana,
Time for a little mathematics! How long ago was the year 2013? How old were you? Do you remember where you were or what you were doing? Let's find out why the year 2013 is important to the `Ohana of Alaka`i O Kaua`i Charter School!
In the year 2013, plans for iLEAD Kauai first began and our first application was submitted to the charter commission. Deena Fontana Moraes wrote the first series of applications with iLEAD cofounders, Amber Raskin and Dawn Evenson. Ms. Moraes now works as an administrator in the DOE as an educational consultant.
For the 2014-2015 application, Dr. B Blackwell (Tutu B — that's me!) was added. A lot of volunteers supported this application and went out into the community to gather over 800 signatures in support of the school.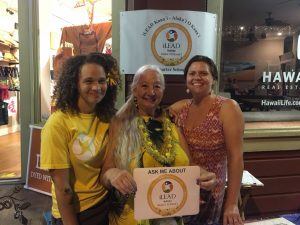 Three people who worked hard to gather signatures were Nicola Sherrill, Tutu B, and Minna Freeman Prichard, who also served as board members. Nicola had been part of the school effort since 2013 and still serves today as vice chairperson of the Alaka`i O Kaua`i Governing Board.
We held many community meetings, the first in May of 2014. The largest meeting was held January 8, 2015, at the All Saints' gym in Kapa`a. Over 100 people attended, including the Mayor of Kauai, Bernard Carvalho Jr. and Superintendent of Kauai Schools Bill Arakaki!
In spite of the overwhelming community support, the charter commission denied iLEAD Kauai's applications for both 2013-2014 and 2014-2015.
So how did the community triumph with their third and final effort, when we submitted the application (now as Alaka`i O Kaua`i Charter School) for the 2015-2016 year?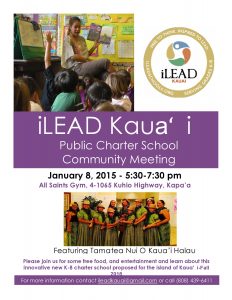 New rules stated that no director or group of people could submit an application. Only a governing board with officers could submit an application and a director had to be selected through an advertised and vetting process. Many times there were challenges that I thought we couldn't overcome.
I spent many hours looking at my computer screen, answering the Charter Commission's questions.
What got me through the process?
On my computer screen were the photos of the governing board members' children, our school's keiki (see our featured photo above). I wanted them to benefit from the alternative educational program offered by iLEAD Schools Development (now Maker Learning Network).
On August 11, 2016, Alaka`i O Kaua`i Charter School was finally approved!
And did you know that the Hawaiian translation for Alaka`i O Kaua`i means iLEAD Kauai?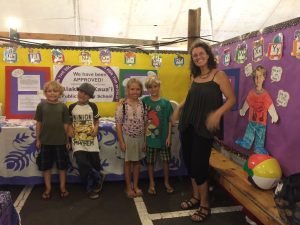 Soon after we received the approval, we shared the news with Kauai through the Kauai County Fair. Our booth was designed by Indulekha Reeves, who was vice chairperson of our board at the time and is now the chairperson.
But wait! If our school was planned to be in Kapaa, then how did Alaka`i O Kaua`i Charter School end up in our beautiful Mount Kahili home? That story will be told in the next chapter of Remembering with Tutu B!