Aloha, Alaka`i O Kaua`i `Ohana,
The pandemic has given us lots of time to clean our rooms (as you might have been told by your families). I was given some more time when, after 17 years as a professor at the University of Hawaiʻi at Mānoa (UHM), I retired on July 7, 2020. When I had a chance to clean out my office, I discovered many pictures and documents that had gotten buried under lots of other papers!
The photos reminded me to share the story of Alaka`i O Kaua`i with you.
Above is a picture of me during the very first day of school, August 29, 2018. I was outside the office to greet each and every learner (with their parents) to our new school. What an exciting day that was! Well, we were supposed to open on August 28, but Hurricane Lane made a river across the road to our school and we had to cancel the first day of school. Thankfully, we postponed our opening only by one day.
Before that day, many more people worked very hard to help bring you your school.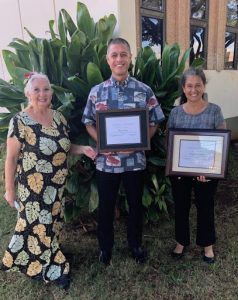 A few people, working in what was called the Advisory Group, helped our Alaka`i O Kaua`i Charter School Governing Board in several ways but especially with writing the application for charter school approval.
Paul Zina, who was principal of Ele`ele School and is now Kaua'i Complex Area Superintendent, served as the educational liaison. He showed great support for our school to the Charter Commission and gave valuable input for writing the application.
Felicia Cowden, who had operated her own homeschool and written a book about homeschooling, served as community liaison for the Governing Board and actively served on the Advisory Board. Felicia is now a Kauai County Council Member.
Steve Martin-Oldfield, owner of Kauai Pacific Real Estate, served as our business liaison. He helped look for locations for the school and met with all prospective candidates to share about the housing opportunities on Kauai.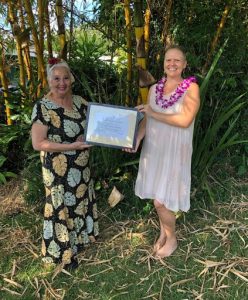 Minna Freeman Prichard was previously a teacher at Koloa School but had taken some time off to have a baby. Minna opened a homeschool not only for her own children but for other children to join as well. She had a lot of experience with environmental education and envisioned what Alaka`i would be. After she had her baby, Minna joined the Advisory Board to continue helping when she could.
As chairperson of Alaka`i O Kaua`i Charter School Governing Board, I made certificates of appreciation for each of the people named here, but I found the certificates only while going through my office files! "Better late than never" is a good motto. So this past Wednesday, September 16, 2020, three out of the four Advisory Group members finally received their certificates of appreciation. Steve could not be seen, for he is dutifully serving quarantine time after visiting the mainland and will be given his certificate later.
I hope you've enjoyed this edition of Remembering with Tutu B. I look forward to sharing more of the story of your school, Alaka`i O Kaua`i Charter School, very soon!