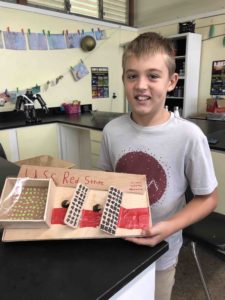 Thank you to all of the families who came out to celebrate our first Presentation of Learning on Friday, Dec. 14. Our facilitators and learners were so excited to show off all the hard work that has gone into our school-wide unit of study focused on the garden and sustainability here on Kaua'i. The learning from this project will continue on throughout the year as the garden continues to grow and evolve.
We will also be participating in Project Lemon Tree. "Project Lemon Tree is a living, outdoor classroom program where Bizgenics provides free lemon trees and design-thinking sessions to Hawai'i schools. Public and private schools on all islands, as well as businesses and community locations, are also invited to participate. The program anchors a curriculum system for grades K-12 in the subjects of agriculture, farm-to-table, culinary, ecology, water conservation, Ahupa'a eco-ag systems (native Hawaiian plants), trellis building (architecture, engineering and construction), crafts, innovation, and entrepreneurship."
Miss Ashley and her learners have been spearheading a partnership with this organization and designed and built a model of the trellis they hope to build with school volunteers in the next few months. All learners at the school from K-6 will be able to participate in this project and curriculum, and a lemon tree will be donated to each classroom to plant and nurture as part of the program.