Aloha mai kakou to the good people in the Alaka'i O Kaua'i Charter School learning community and hope this message finds you in good health and happiness during these challenging times on the beautiful islands of Hawai'i.
Mahalo for your support of our unique charter school which features socio-emotional learning as one of the cornerstones of our state of Hawai'i Charter Commission contract. As the great civil rights leader Dr. Martin Luther King once said during a speech in Washington DC in 1968 "We must accept finite disappointment, but never lose infinite hope." At our school, we are extremely fortunate to have amazing people who keep infinite hope despite the sorrowful tragedies that have unfolded in Maui. We know that the research is quite conclusive that building positive paths of empowerment for our learners is essential to reduce feelings of helplessness during a crisis.
We greatly appreciate all the items that were dropped off at the school early last week. Due to the vision of an ohana in our learning community, these items were quickly sent off via boat to make their way over to those in need on Maui. We trust that the prompt response allowed the donated items to find new owners swiftly.
Alaka'i O Kaua'i Charter School implemented a coin donation program entitled "Change for Change" to empower everyone to donate financially to the people of Maui. This non-competitive event will see all the collected monies donated to the American Red Cross efforts to support those people on Maui in crisis. We sincerely hope that our learners gain the understanding that an act as simple as donating spare change to others can have a profound impact on those people in need. Due to the overwhelming response on campus, we actually needed to add an additional collection jug to hold all the coins that have been pouring in.
Alaka'i O Kaua'i Charter School will be opening our school and classrooms to accept displaced students from Maui on a temporary basis. Unfortunately, we do not have space at all grade levels but will work closely with those needing a high-quality free public education here on campus in those spaces where there might be some vacancies. If you know of any students that were displaced and are looking for a school to attend then please do contact the school so we can work together on making this happen.
Ms. Nicole has commenced a beautiful art project with the Grade Seven students. They are drawing the lokelani (Damask Rose), the official flower of the island Of Maui, as a measure of support and aloha to send directly to schools on Maui.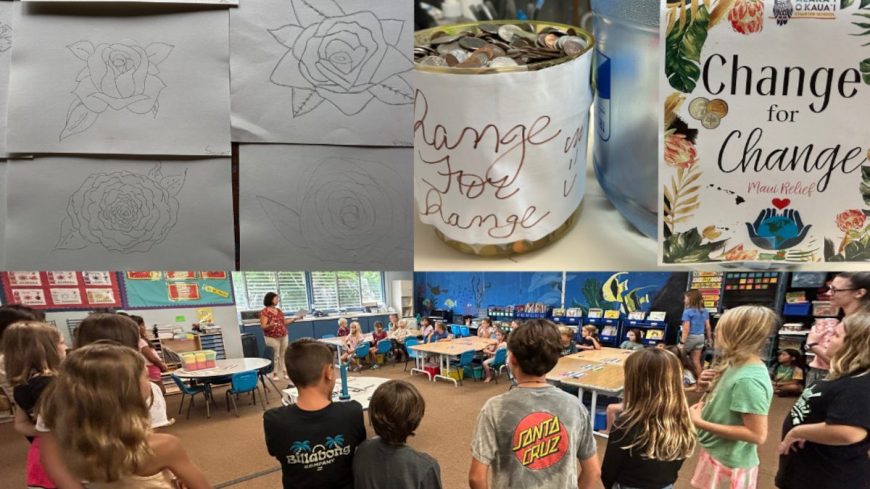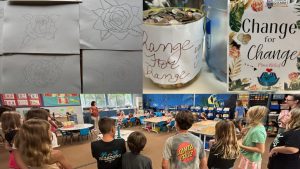 We all understand that this recovery will be years to complete and Alaka'i O Kaua'i Charter School will keep infinite hope in this journey to support our brothers and sisters impacted by this tragedy long into the future.
Please be safe, stable, and strong in these challenging times. Malama pono.
DJ Adams – Po'o Kumu (Director), Alaka'i O Kaua'i Charter School, Koloa, Hawai'i
"Ua ola no i ka pane a ke aloha." There is life in a kindly reply.