Monday message
10.24.2022
Message from the Director
Aloha to the Alaka'i O Kaua'i Charter School learning community, and we hope this message finds you in good health and happiness as we transition deeper into the second quarter of the school year.
Mahalo for your support of our unique charter school nestled in beautiful Kahili Valley and we are pleased to share some happy updates from recent improvements made on campus last week. As lifelong learners at the school we embrace the opportunities for positive change through educational experiences and community resources.
We wish to recognize the County of Kaua'i Recycling Program who visited our campus last week and made powerful presentations to all the classes about the current programs on island. As we move forward in our first schoolwide project-based learning activity of Ku'u Kaianoho (My Habitat) we thought it was important to realize that a school of 200 learners generates LOTS of waste that could be recycled. Moving forward we do hope in the coming weeks to start a recycling program here on campus despite the challenges of our remote location.
Alaka'i O Kaua'i Charter School also wishes to acknowledge the generosity of the good people at Corteva who volunteered their equipment and employees to come to our campus to assist with the renovation of the garden beds. The Corteva crew came to campus to work during the school day so our students would have the opportunity to learn by observing plus asking questions. With the advantage of heavy equipment, proper planning, and expert preparation made by our own Jon and Adam, the garden beds were transformed in less than one day.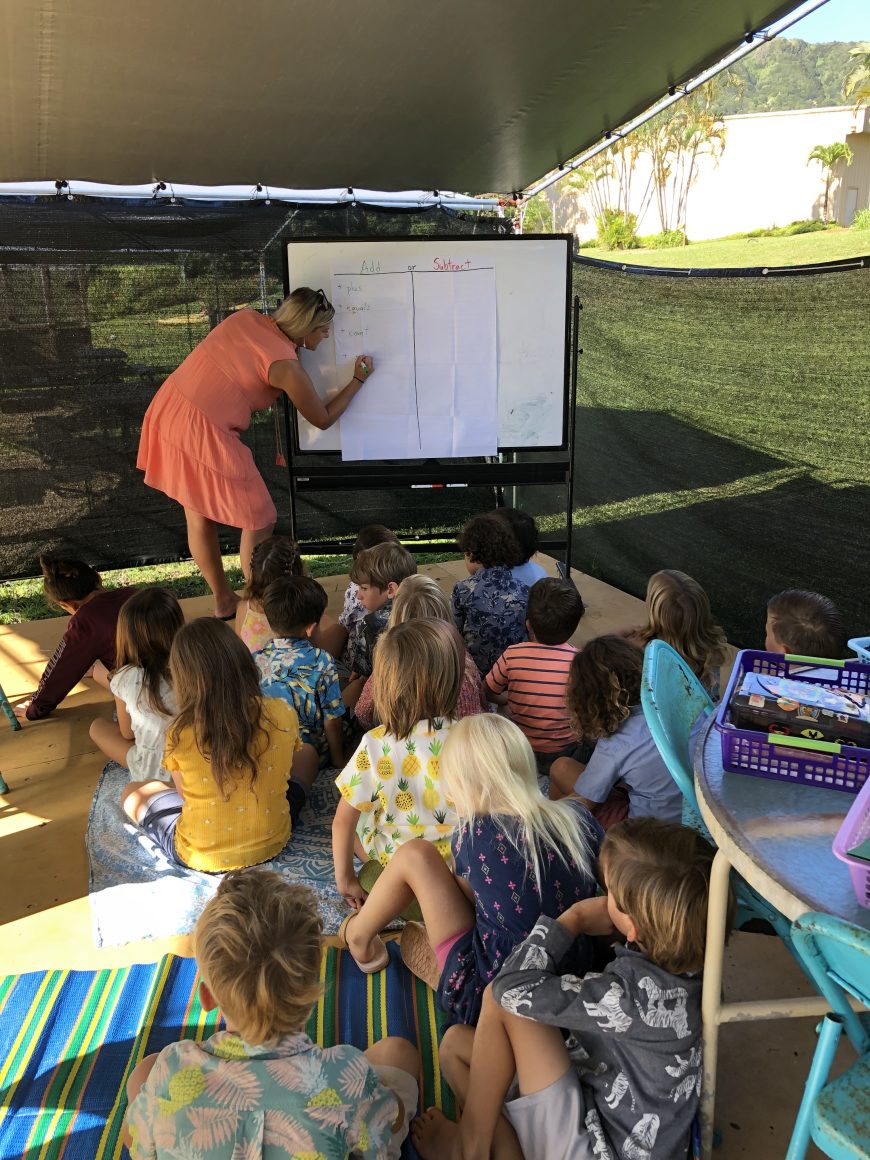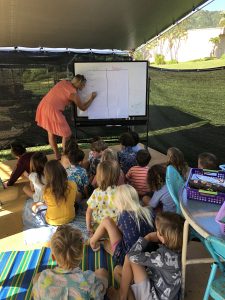 This good problem of distractions to regular education was skillfully addressed by our talented staff. With the noise of heavy equipment interrupting indoor classrooms on one part of the campus, the clever facilitators simply moved their learners to the other end of the campus to conduct learning in the outdoor classrooms that have been built over the last three years. A fine example of ingenuity at work and we are proud of our learning community for being so flexible and adaptable.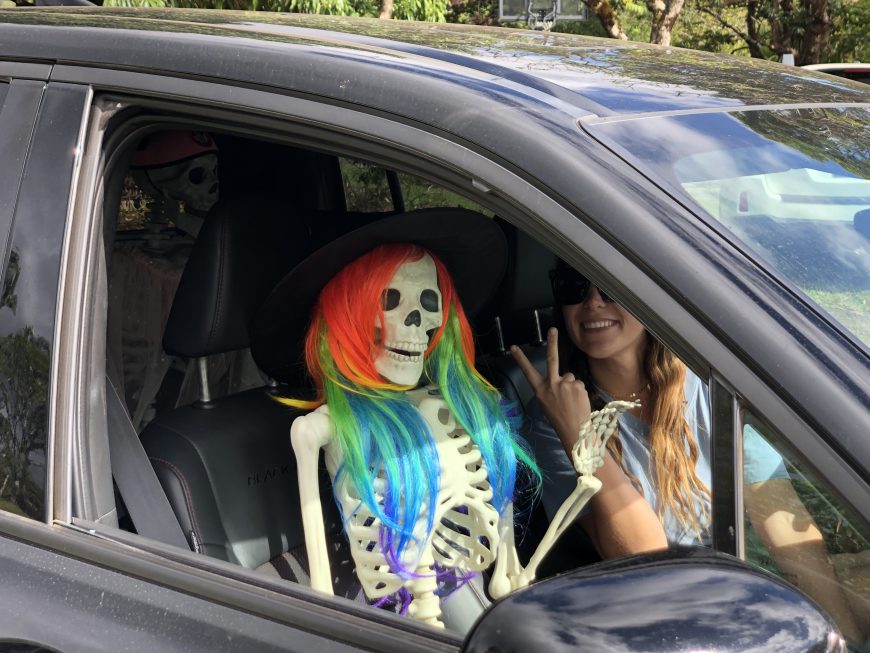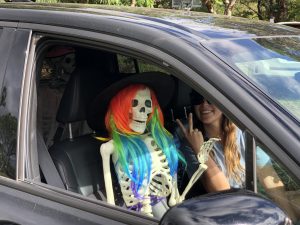 One afternoon in the Dismissal Line Pickup after school came a happy reminder our way (check out the passenger in the car in the picture) that the annual Trunk or Treat event is coming up quickly on Monday, October 31st. We can accommodate upwards of 50 vehicles this year and setup in the field can commence as early as 8:15am that morning.
Please do communicate with your classroom teacher about the specifics of costumes wearing for that day as we have a great variance in ages, maturity, and levels at our school. Please respect everyone on campus by leaving any costumes or props at home that could be considered a weapon. We will also send out a ParentSquare update this week directly to our parents with greater details.
Best wishes to you all for a terrific week ahead and malama pono.
DJ Adams
Po'o Kumu (Director), Alaka'i O Kaua'i Charter School, Koloa, Hawai'i
"Ua ola no i ka pane a ke aloha."
There is life in a kindly reply.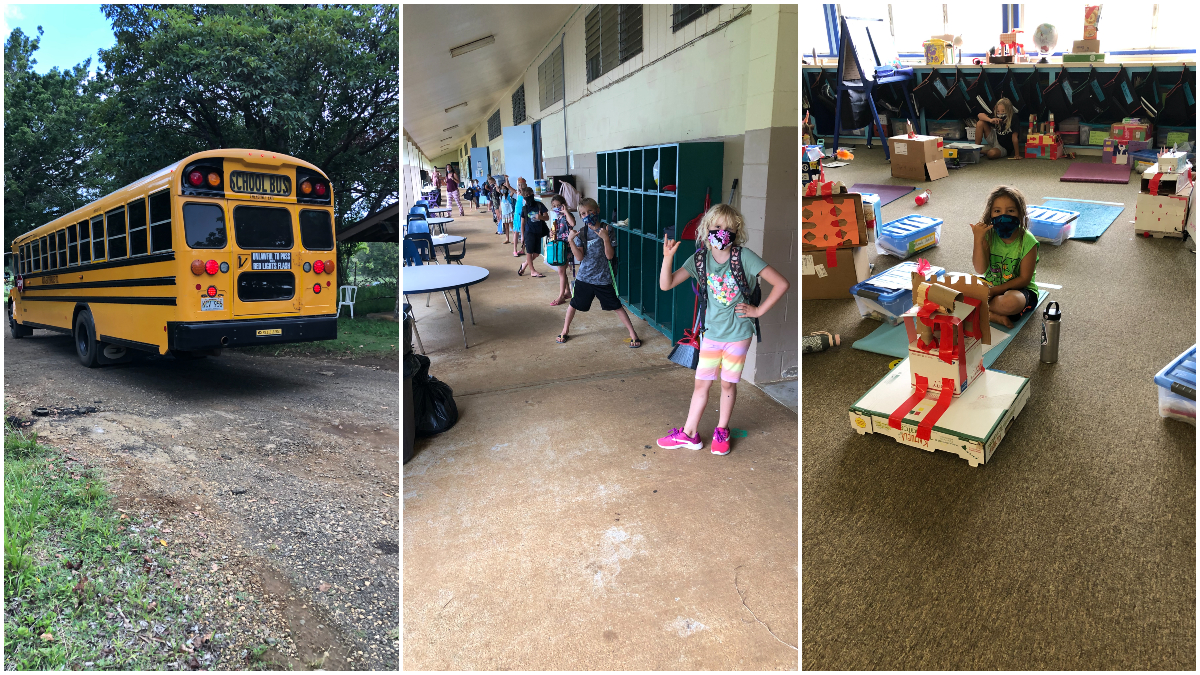 Did you know you can help Alakaʻi O Kauaʻi grow and provide additional resources by just doing the things you're already doing every day? We call this "passive fundraising." Through… Read more