Monday message
08.01.2022
Message from the Director
Hau'oli Makahiki Hou kakou (Happy New Year to you all)! I hope this message finds you in good health and happiness as we sail into the start of the 2022-23 school year for our learners. We trust that the summer break blessed you and your ohana with rest, recovery, and time to recharge as we move forward together in collaboration to provide a top notch free public education for keiki on Kaua'i.
Mahalo nui to everyone for their gift of their time to generously assist with the annual Campus Cleanup held last Saturday. We enjoyed a record turnout of kind people who showed up to help prepare the campus for the start of the 2022-23 school year for our learners on Monday, August 1st. Many hearts and many hands made short work of the extensive job duties created to continue to improve our unique charter school.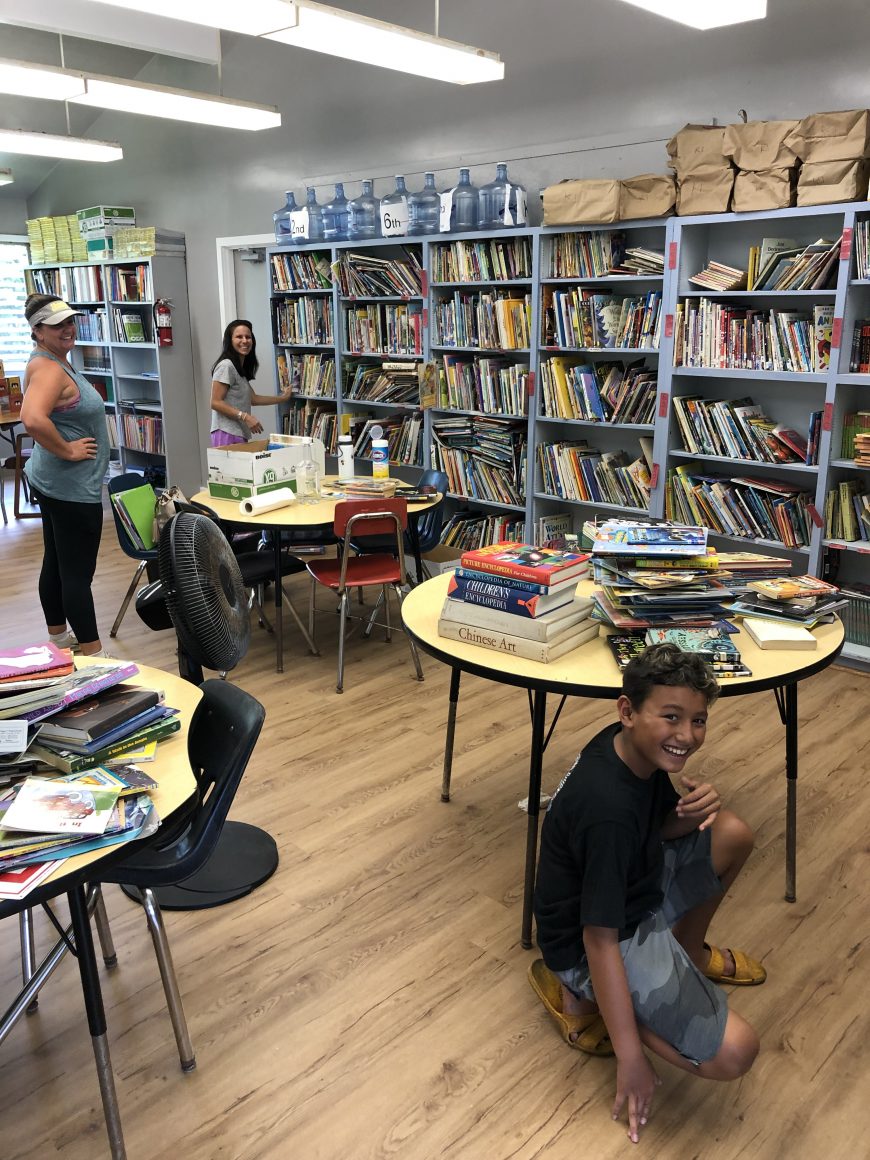 One of the greatest improvements over the course of the summer was the creation of the Learning Commons. Under the steady guidance and talents of Mr. Jon, the old Library and Conference Room were revamped to create a Learning Commons and Counsellor Suite to better serve the needs of our learners. Here is a photo from Saturday showing the diligent efforts to reclassify and shelf the books in this new space.
We look forward to holding an official opening of this learning space later in the school year once the Learning Commons has been fully equipped with electronic devices.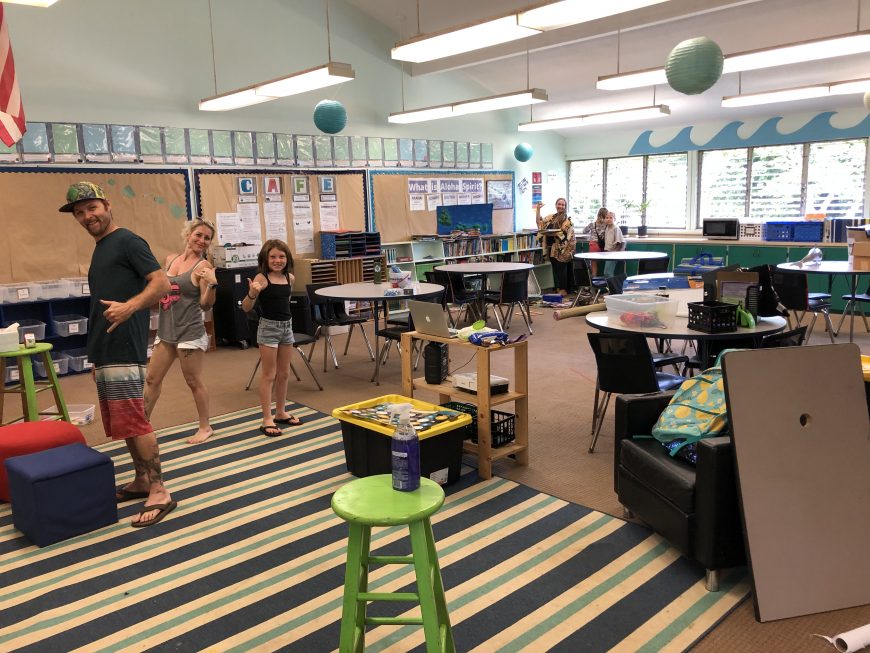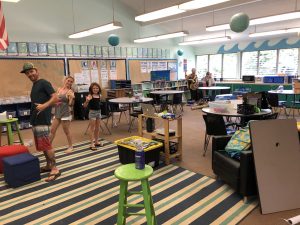 The classrooms started to sing with joy as selfless people came to campus and assisted with the setup for the learners as well. This wonderful event also gave our learning community an opportunity to potentially meet the four new staff members who have joined us this year due to ever-expanding enrollment, or help out with a returning educator who will be working with their keiki this year.
We are extremely fortunate to have a campus located in beautiful remote setting that receives ample amounts of rainfall. The blessing of all the abundance of moisture is that that Mother Nature flourishes under these conditions so there is always tons of work keeping up with the plants that grow on campus.
A friendly reminder that the first week of school can be taxing for our learners as they adjust to fresh routines, so we have adjusted our schedule with them in mind. Monday, August 1st, and Friday, August 5th, will be early dismissal days at 12:30 p.m. Tuesday, Wednesday, and Thursday will be regular hours of school with dismissal at 2:45 p.m. We will return to our regular schedule the following week, which is regular school days from Monday to Thursday and early dismissal day on Friday.
Mahalo nui for your support of our unique charter school and sincere best wishes to you all for a successful 2022-23 school year.
DJ Adams
Po'o Kumu (Director), Alaka'i O Kaua'i Charter School, Koloa, Hawai'i
"Ua ola no i ka pane a ke aloha."
There is life in a kindly reply.
We're happy to introduce a new series of articles in the Monday Message, aimed at unpacking some of the essentials of the Alaka'i O Kaua'i Charter School educational model. Our… Read more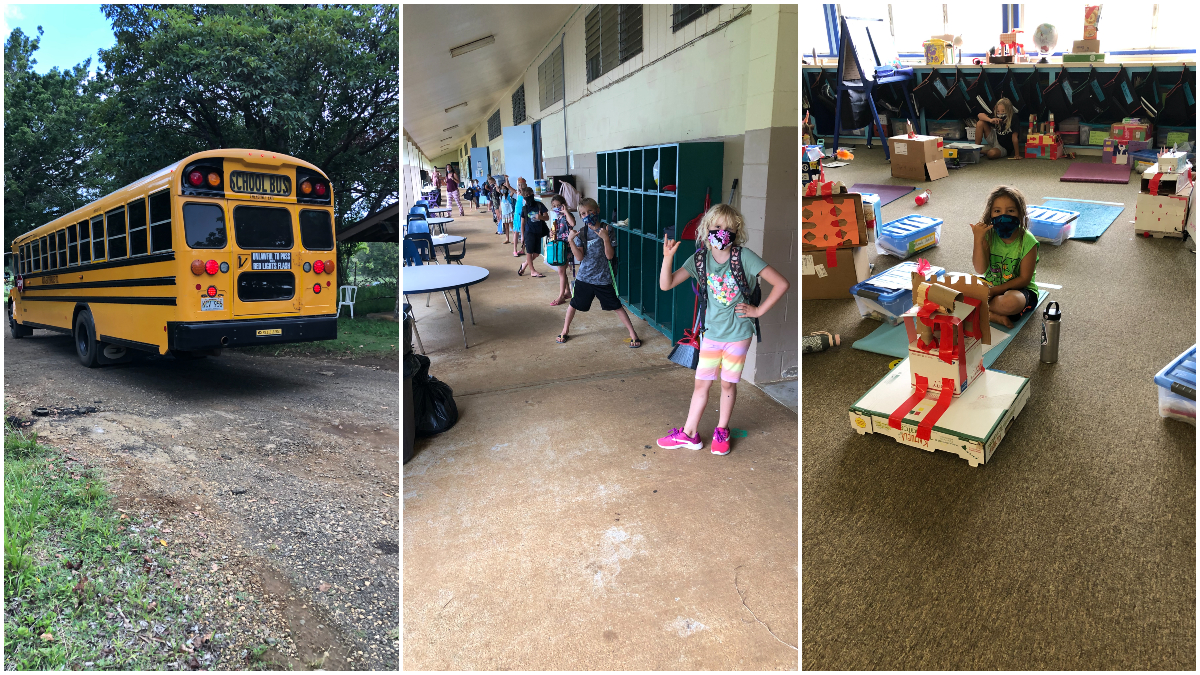 Did you know you can help Alakaʻi O Kauaʻi grow and provide additional resources by just doing the things you're already doing every day? We call this "passive fundraising." Through… Read more